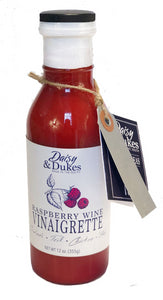 Daisy & Duke's raspberry wine 
vinaigrette

 brings the taste of summer to salmon, chicken, pork and salads. The fruit's sweetness and light acidity is perfect for a marinade, or a lightly tossed salad. Crumble goat or blue for a savory and quick, healthful meal. Great recipe card attached, 
Grilled Salmon Salad with Daisy & Dukes Raspberry Vinaigrette.