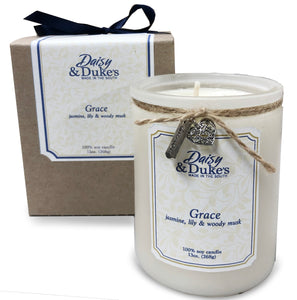 Daisy and Duke's Gifts Signature  Candle comes in a gift box, poured in a recycled calypso glass jar. The gift box is topped with a Navy and White grosgrain ribbon with navy shred inside. Lovely, made in the South gift. This candle comes in 4 delicious sophisticated scents.
Grace, Heaven in a jar.
Home- Red Currant, Clove, Nutmeg, Liven up any room with the tart punch of red currant. This citrusy fruit scent has top notes of red currant, pink grapefruit, and lemon, rounded by the homey smell of clove and nutmeg.
Fallen Leaves- Apple, Cinnamon & Pumpkin Spice,Wrap yourself in the smell of autumn air with our vibrant Fallen Leaves fragrance. This warm and inviting fragrance starts with top notes of cinnamon, citrus, and chrysanthemum.

Mid Summer dream-Lavender, Sage, Amber Noir, This fragrance is a sweet and sultry fusion of mandarin, jasmine, and rich amber with undertones of sandalwood and musk. Complex, intriguing and sensual, this fragrance has year-round appeal and is at home in any high-end candle.
Awakening -Honeysuckle, Gardenia, Tubor Rose, I remember the first true sign of Summer was the fresh, sweet scent of honeysuckle. gardenia and tubor rose riding on the spring breezes. This candle will bring you back to a happy place of Southern Summers.

Peace- Palo Santo, Patchouli, Bay Leaf, There is a hippie in all of us. While exquisite on its own, patchouli is a favorite for blending with other fragrances by adding a rich base note. Palo Santo is an upscale free spirited fragrance that works beautifully in modern settings. 
Sea Salt- Wood Sage & Sea Salt, Himalayan Sea Salt is complimented with Crushed Sage and Oud Wood.  Escape the everyday along the windswept shore. Waves breaking white, the air fresh with sea salt and spray. Alive with the mineral scent of the rugged cliffs. Mingling with the woody earthiness of sage.
Duke- Leather, Tobacco, Amber, This classic masculine cedar leather scent will transport you! A woodsy and amber men's type with an evocative musk and tonka bean base note. This fragrance is a classic masculine fresh scent!